Communigrow, Ditton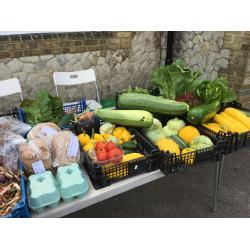 About Communigrow
Learning, teaching and sharing resources for food and nature!
A community food growing charity run by a group of volunteers. Learning, teaching and sharing are at the core of all aspects of the project: food production, conservation and wellbeing. We grow a wide range of seasonal vegetables and herbs without the use of pesticides and herbicides.. We sell the fresh produce locally via our veg box scheme, and through community outlets.
Weekly stall at Brassey Centre, Staion Road, Aylesford, ME20 7QR,
10am to 12 noon
Stall on The Green at Ditton 2nd and 4th Saturdays of month.
12.15pm to 2pm.
Contact manager@communigrow.org.uk to order veg box.
Opportunities for volunteering, training and skill development for all ages and abilities.
Our vision is for a healthier and more balanced society in food and farming.
Please click on our website for more
Communigrow Opening Hours
Please phone to visit