N'eat Healthy Snack Bars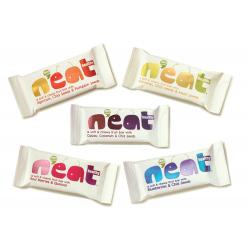 We're a small, vegan snack bar business called N'eat Healthy. The bars are wheat free, dairy free with no nuts and no added sugar.
They are a good source of fibre, protein and natural energy. We also do not use palm oil in our bars and have recently become business partners with the Orangutan Appeal UK. The charity supports wildlife ecosystems currently devastated by de-forestation for the mass production of palm oil. All N'eat Bars' ingredients are sourced from ethical and sustainable farms.
There are five flavours as follows:
Cacao, Coconuts & Chia Seeds
Blueberries & Chia Seeds
Red Berries & Quinoa
Apricots, Chia Seeds & Pumpkin Seeds
Bananas, Chia Seeds & Multi Seeds
Opening Hours
ONLINE or wholesale ONLY