Elchies Goat Co, Aberlour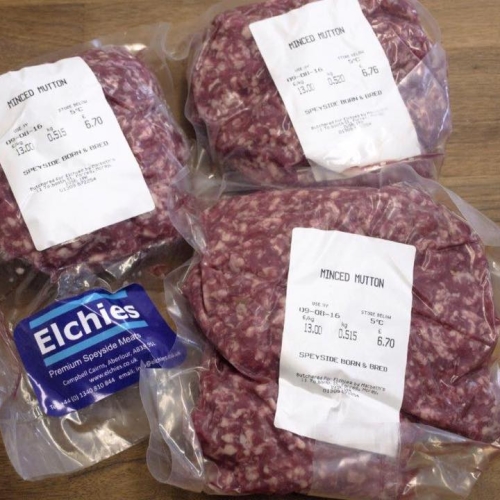 About Elchies Goat Co
Suppliers of hogget, mutton and goat meat - tasty, exclusive and extremely healthy

Goat is low in fat and cholesterol but high in protein. It is rising fast in popularity with many celebrity chefs promoting it heavily as a healthy and practical alternative to red meats. Our goat meat comes from our herd of boer & boer x goats. These are bred for meat and are the "Aberdeen Angus" of the goat world ! We cross some of them with dairy goats which makes the does (mummy goats!) milkier for growing kids.
Our pure Ryeland sheep mature slowly and hence we over-winter these to create 'hogget' at between 15 to 20 months old. It is the real connoisseur's choice of sheep meats; rich in flavour and with a firm texture and low in fat. This is a meat that reflects its upbringing and there's not much of it around - too much trouble to keep, but we reckon it's well worth it! Hung to perfection, it is available from us between June and December.

The high-quality protein in hogget and mutton sates the appetite and repairs and maintains our bodies. These meats have every essential amino acid we need, plus high levels of valuable micronutrients, including easily absorbed iron to energise us, zinc to support the immune system and B vitamins to help us think straight.
And our farm security system is co-ordinated by our resident alpacas. They don't tolerate foxes - the natural preditor for young kids and lambs - so we always ensure that they are kept near the nursery! In addition, they provide us with luxurious fibre (their wool) which we use to make yarns and woven products.
The farm holds regular Open Days throughout the year. Follow us on Facebook and look at the website to find out the next date.


Elchies Goat Co Opening Hours
Please phone to visit